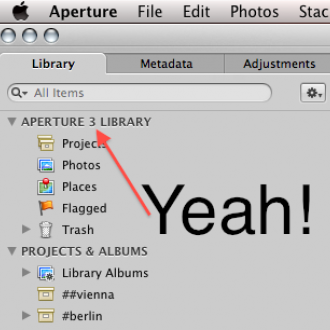 Being quite geek I'm one of those early adopter guys. So wonder what? I've migrated my Aperture 2 library to just released Aperture 3. You may wonder why wouldn't I use Lightroom, but well, I just like Apreture's workflow + look and feel a bit more. That's it. Also faces and locations in Aperture 3 (apparently migrated from iPhoto) are just killer features comparing to Lightroom.
Migration was quite easy but it took quite a time to rebuild the Aperture's database to a new version. You can migrate from previous library, old vault or my way was to save (export) projects from v.2 to external drive and import them in v.3 one by one afterwards. This also helped me to clean up some older projects which were on standby for quite a long time.
Here is a tip: there were some phantom "referenced" files in Aperture 2, so it would blame the project export was unsuccessful. There is an easy way to deal with that. Just create a new project and move all photos there from the troubled one. Worked fine for me.
Aperture 3 also nicely surprised me with all old plugins working. The only drawback was you have to restart it in 32-bit mode (it will do it automatically if you request to use the older plugin).
The other great news for me regarding the release of Aperture 3 is that it finally understands Lumix LX3 RAW files. Exactly when Panasonic decided to stop producing this model or even the whole series in favor to 3/4th format cameras like GF1. It actually comes as separate update as well: Apple Digital Camera RAW Compatibility Update 3.0 which will enable OSX in general and iPhoto '09 to understand it as well.
Just mailed older plugin producers with Aperture 3 update plans. I'll post an update with any news.