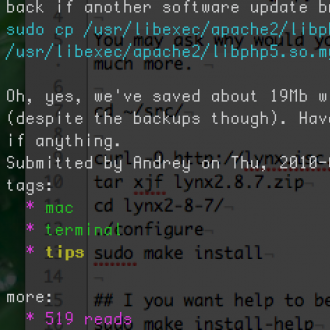 Looks like after setting up PHP I'm now a compile-my-own adept. Here is my take on lynx web browser.
You may ask why would you need lynx at all? Well. There are many uses: usability and accessibility testing, understanding content layout without CSS tricks, checking SEO points (you see the site about the same as search engine sees it) and much much more. After all it looks so geeky :)
#1. Create src directory in your user folder where all needed files will be stored initially:
mkdir ~/src
#2. Download, compile and install
cd ~/src/
curl -O http://lynx.isc.org/lynx2.8.7/lynx2.8.7.zip
tar xjf lynx2.8.7.zip
cd lynx2-8-7/
./configure
sudo make install

## I you want help to be installed as well:
sudo make install-help
That's it. Now you can call your website say like this:
lynx http://andreys.info
Just a remark on why I wouldn't use pre-compiled version: the installer I found seemed to be somewhat creepy but probably just outdated.